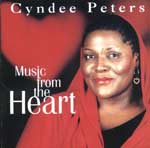 Framsida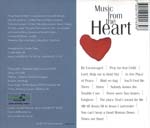 Baksida
Be Encouraged | Pray for that Child | Lord, Help me to Hold Out | In this Place of Peace | Blott en dag | You'll Find Me There | Shine | Nobody knows the Trouble I see | There were Two Sisters | Forgiven | The place That's meant for Me | Alit till Jesus/All to Jesus I surrender | You can't keep a Good Woman Down | Times are Hard

"Music from the Heart" is a production of SoundArt Records
Executive producers: Cyndee Peters and Benny Sonesson
Production assistant: Tim Kern. Recording assistant: Dennis Nyberg
All tracks, except "The place That's meant for Me", are recorded and mixed by Benny Sonesson at SoundArt Studio,
Haninge/Stockholm, Sweden
Mastering: Peter in de Betou,Cutting Room, Stockholm

Management for Cyndee Peters:
Cyndee Peters AB
phone: +46-(0)8-623 16 98, fax: +46-(0)8-623 19 50

Photographer: Madeleine Söder (cover and label)
Styling: Kim Halle
Make-up: Catherine/StockholmsGruppen
Assistant: Lotta Bergh
Cover design: Per-Åke Byström/PROPÅ Information AB

En hälsning från Cyndee
Hej mina vänner… här är Den.
Det har tagit mig nästan 12 år att få den till stånd. Det är framförallt tack vare tre herrar att det blev en CD överhuvudtaget. Två av dem känner ni säkert till- Eric Bibb, min musikaliske tvilling, och Daniel Stenbaek, "the man with the magic fingers". Den tredje är Benny Sonesson, ägaren av SoundArt Records. Han sa "ja" efter att de i Los Angeles, New York, Nachville och övriga Sverige hade tackat "nej". Om ni tycker om vad ni kommer att höra, då har ni dessa tre herrar, samt Herren själv, att tacka.
Music from the Heart innehåller flera sånger som ni kommer att känna igen. Några av mina absoluta favoriter, men även andra helt nya sånger. Åtta spår är mina egna texter tonsatt tillsammans med Eric och Daniel.
I Sverige finns många fina röster och musiker från världens alla hörn. Kolleger från USA, Italien, Kuba, Sydafrika och Sverige förstås har bidragit till att Music from the Heart är något jag både är stolt och lycklig över.
Allt är garanterat…from my heart…

Må väl Cyndee
---
© 2002 SoundArt Records